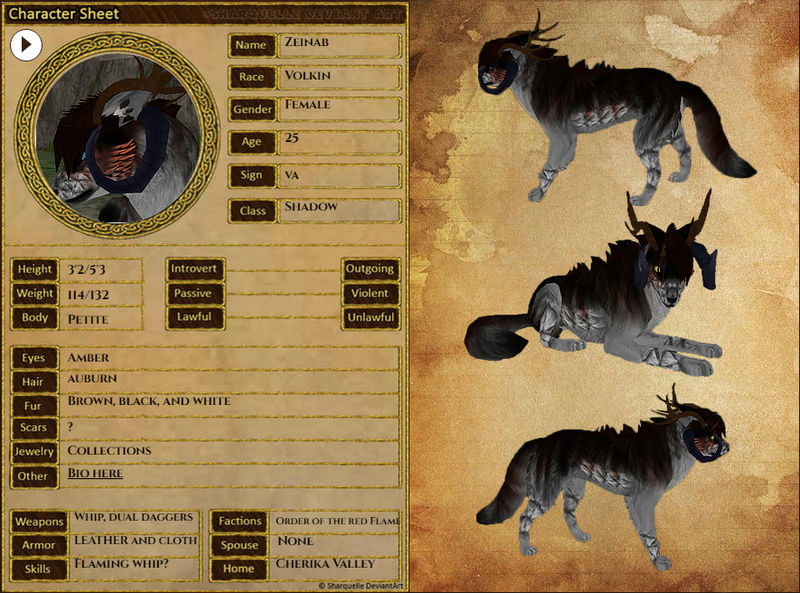 Personality:
Zeinab is unpredictable. She has a bipolar disorder, more controlled than most, but still many should fear her for it. She could be sweet and calm one minute, but if you manage to pull the wrong string you can have her suddenly turn and snap at you. Zeinab can control herself over this, but it is unknown if she remembers her actions or not. Sometimes she will show she does and will often sulk over it...unless you deserved it then she may continue to show it until she recieves a proper apology.
-Pro: Calm, Collective, Sweet, Caring, Kindred of the Heart
-Con: Aggressive, Delusional, Insane, Psychotic
Tidbits:
Zeinab prefers solitary time to herself, refusing to even reveal what she loves most, but if one watched her carefully they can take notice that she loves all things shiny and will collect them anyway she could. She especially collects gems that are either yellow or blue, like her eyes. Now what sheidoes with these things, no one seems to know.
Equipment:
Her main preferred weapon is a whip, but also holds onto dual knives that she keeps sharp in case of close combat.
Her clothes consist of mainly, on the underside, light chainmail that covers over her chest area and partial above the stomach region and the shoulders. Skin tight shorts that are held up by a rather large belt that bears large, metal studs, which it all ends with leggings that are a see through for one to actually see her legs. She wears some comfortable slipper-like shoes as well that don't have much flash to them. Around her neck has a collar that also has small metal studs.
Though there is one thing that covers her whole, upper portion of her body that seems to help mask her appearance. It is a white chador that adorns silver/red markings as well. This goes from the large belt, covers her arms, and over her head. Her face is covered by a white mask with yellow/red markings and the eyes have some form of black covering to conceal her eyes for one to not know of her true eye color...which this defeats the purpose as her eye colors are revealed in her wolf form.
Backstory:
"Oh? You wish to know of my story? Well all I could tell is that I came from a line that seems to somehow manage to mix into one another. A line from the Muerte and Lupus-Idolon families. These lines are a mix of Assassin and Bully from the old times of Ravage. I only know of this from my own mother before her death from a family member of the other line. I chose to stick to my last name as I loved my line from the Assassins and prefer to keep it as such, but I still hold onto the blood that has stained such royal blood....of course, I won't tell you my last name for I am one of secrecy and wish to keep it as such. If you want to know more of myself you should come and interact with me in hopes I would open up. That's....if I do.~"